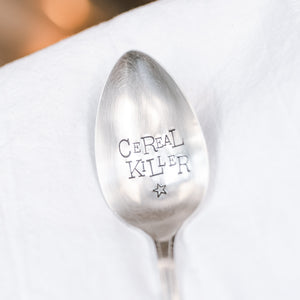 Our Cereal Killer spoons are perfect for any occasion! A fun gift for a cereal/breakfast lover!
We create them by hand-stamping on vintage silver plate cutlery. Because these items are antique and vintage, we have a variety of patterns, styles and sizes that differ from the ones shown and we will fulfill based on available stock. Forks will be polished but because of their age and use/wear there will likely be scuffs, scratches and plate loss which we think makes them even more special.
Item comes packaged with cream ribbon and enclosed in a clear plastic sleeve ready to gift.
Hand washing recommended.