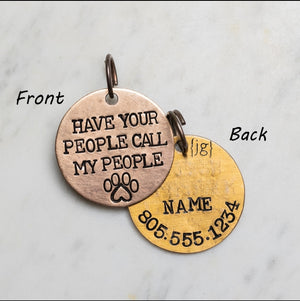 Isn't that just what your pet is thinking ?!
Custom Pet Tag
Melissa will hand stamp your name and phone or your pet's name and phone (jk ;) **Just let us know how you'd like the tag to read in the 'Notes for seller' field at checkout.**

These tags are brass so they will last a long time and hold up well in all kinds of weather. They are recycled brass so they will have varying amounts of patina.
Size:
1 1/4"  diameter.