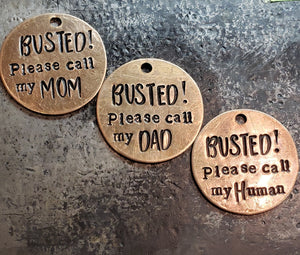 Isn't that just what your pet is thinking ?!
Custom Pet Tag
Melissa will hand stamp your phone number on the back of the pet tag you choose. Just give us the number in the 'Notes for seller' field at checkout.**

These tags are brass so they will last a long time and hold up well in all kinds of weather. They are recycled brass so they will have varying amounts of patina.
Size:
1 1/4"  diameter.