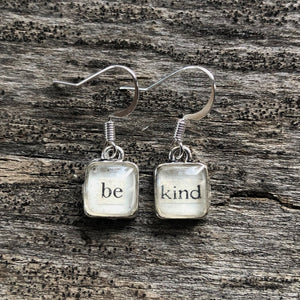 Hand crafted by Lisa Souers, these are the perfect earrings for spreading the message of kindness everywhere you go. Each set will be slightly different as they're made with vintage words from books which are then set in resin, wrapped in silver.
They hang on silver-plated hooks, and measure approximately .5" x .5" each. 
Each pair arrives packaged in a clear sleeve ready for gifting.